Salutations! Welcome to my first raffle, I'm excited to do this and hope everyone enjoys it. I included a lot of different entrance fees so I hope you can find a way to join the fun.
Rules:
*Raffle ends 6/18 8pm EST (6/19 12am GMT)



*Send all Entrance Fees to Ea, please say they are for the raffle.

*Post a copy of your sent Entrance Fee. I am going to accept posts in the forum on this thread, my pet page, and the facebook post. The order tickets are listed will be the order I receive the entries in my gifts inventory.



*You can donate tickets to others. If I cannot find someone who wins a prize I will ask the one who donated the ticket to give me the link to the person.





*A ticket can only win one prize but entrants can win multiple prizes.





*I can add more prizes if I decide but I will not take away any prizes.



Prizes: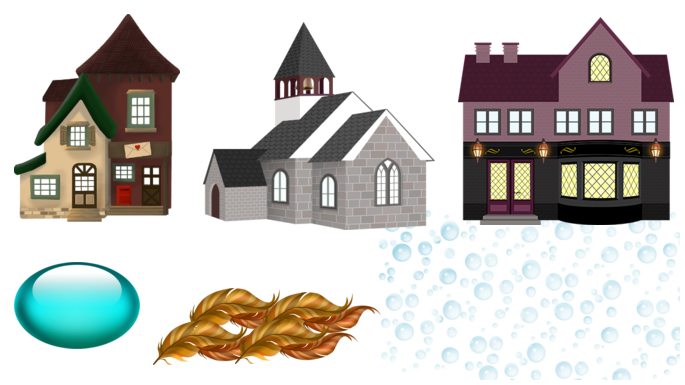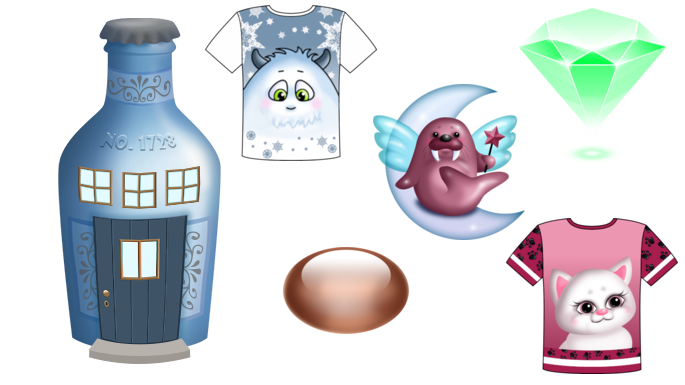 1st - 1 Village Post Office





2nd - 1 Ye Olde English Pub





3rd - 1Stardust Unicorn (Curious) Size 10





4th - 1 Ye Olde Village Church





5th - 1 Berry Cola Cottage





6th - 1 Jack Spaniel Feed





7th - 1 Jack Spaniel Feed





8th - 1 Green Solitaire Crystal Size 11





9th - 1 Tundra Gem Size 9





10th - 1 Team Yeti Shirt Size 10





11th - 1 Winter Blast Full Size





12th - 1 Blue Bubble Overlay





13th - 4 Golden Phoenix Feathers Size 7





14th - 1 Smoky Quartz (Stone Of Power) Gem Size 9





15th - 1 Crystal Walrus Fairy Figurine Size 10





16th - 1 Team Kitty Shirt Size 10





17th - 1 Pink Fluff Monster In a Dress Full Size





18th - 1 Teal Water Effect
Entrance Fees:
1 Golden Mole = 1 Ticket
25 Golden Moles = 30 Tickets
50 Golden Moles = 75 Tickets
100 Golden Moles = 150 Tickets
1 Platinum Paw = 30 Tickets
Liquorice Lipsmacker Feed = 30 Tickets
Sweet n Sour Stinger Feed = 75 Tickets
Jack Spaniels Feed = 150 Tickets

-Size 4 of below = 1 ticket each
-Size 7 of below = 15 tickets each
-Size 10 of below = 200 tickets each
-Full Size of below = 2500 tickets each


(Listed Alphabetically)




Alien Plant In A Jar, Angel Wing Seashells, Arc d'Triumph d'PnF
Blueberry Tree, Blue Cockle Shell, Blue Forget-Me-Not Branch, Bunny In A Jar, Butterfly Shelf Space Rock, Butterscotch Razzmatazz (Candy Tree)
Clam Shell (Blue), Clam Shell (Purple), Cosmic BOOM!, Copper Tentacles from the Depths Sculpture, Cryogenic Freeze Capsule, Crystal Ball Blue, Crystal Ball Purple, Crystalline Sisters Comet (Daffodil), Crystalline Sisters Comet (Hyacinth), Crystalline Sisters Comet (Rose)
Elephant Rock, Empty Hermit Crab Shell, Empty Hermit Crab Shell Overlay
Grassy Flower Powered Space Rock, Green Alien Spacecraft (Hovering), Green Goo In a Jar
Hanging Lamp, Icetroid Space Rock, Jar Of Eyeballs, Kiwi Tree, Lime Kaboom Cloud
Mysterious Purple Egg, Mystery Brew, Mystery Mixture, Orange Tree
Painter's Punch, Peach Cockle Shell, Peacock Pucker, Petforming Art Centre, Plum Tree, Purrcedes Bends Shuttle (Blue)
Queen Conch Shell, Red Alien Spacecraft (Hovering)
Sea Urchin Shell Ornament, Solaris Rocket, Space Pod, Strawberry Tree, Sour Apple Razzmatazz (Candy Tree), Sour Blueberry Razzmatazz (Candy Tree), Sour Cherry-n-Lime Razzmatazz (Candy Tree), Star Flower Space Rock, Stories Untold, Sweet Cheat Cherry Cordial
The Abyss, The Big Bang, The Colosseum, Toad in a Jar
Unicorn Horn Shell (Cream), Unicorn Horn Shell (Green)
Whale Tail Martini

-Size 4 of below = 2 ticket each
-Size 7 of below = 30 tickets each
-Size 10 of below = 400 tickets each
-Full Size of below = 5000 tickets each


(Listed Alphabetically)




Antarctic Sea Cocktail, Atoms, Black Orchid, Blizzard Orb, Ball Lightning
Classic Silk Umbrella (Rainbow), Corner Vine, Crimson Orb, Curling Vine
Diggity Dog Patch
Electric Line, English Ivy Vine, Galactic Grape Vortice
Leaf Cluster, Leaf Corner, Leaf Trio, Molecules, Mt. Fuji at Sunset, Movie Reel
Neon Pucker Martini, Noble Plasma Globe, Northern Twilight Orb
Orion Rocket
Pink Playful Owl Patch, Precious Pearl, Purple Kaboom Cloud, Purple Paisley Owl Patch, Purple Sakura Branch, Purrcedes Bends Shuttle (Silver)
Rainbow Petmopolitan
St. Joyful Cathedral, Seashell Sensation, Sea Side Door, Sewing Machine (Retro), Sour 'Beary' Brew, Southern Winter Orb Ornament
The Cheshire Cat, Time Travel Door, Venus Fly Trap, Water Faerie

-Size 10 of below = 300 tickets each
-Full Size of below = 2000 tickets each


Achiever Beaver (Surveying), Achiever Beaver (Resting), Achiever Beaver (Oops)
Blue Tang (Side View), Blue Tang (Smiling), Blue Tang (Excited)
Chipmunk (Bashful), Chipmunk (Standing), Chipmunk (Running)
Cockatrice (Wild), Cockatrice (Standing), Cockatrice (Sleeping)
Found a Flounder?, Grounder Flounder, Profounder Flounder
Giant Blob Monster, Manatee Reclining (Blue), Manatee Swimming (Blue)
Newton Nessie (Diving), Newton Nessie (Front), Newton Nessie (Side)
Nicholas Narwhal Swimming, Nicholas Narwhal Dancing, Nicholas Narwhal Waving
Painted Horse Rearing, Painted Horse Standing, Painted Horse Trotting
Sabre Toothed Penguin, Sabre Toothed Penguin Swimming, Sabre Toothed Penguin Waving
Waving Shark, Smiling Shark, Swimming Shark
Hillbilly Starfish, Rowdy Starfish, Shy Starfish, Happy Starfish
53rv3r (Server Robot - Blue), 53rv3r (Server Robot - Green), 53rv3r (Server Robot - Pink), 53rv3r (Server Robot - Yellow)