'Golden Moles' are the premium currency of "Pets 'n' Friends". We have made this post really obvious in the forum, because the details are so hard to find anywhere else. After I explain how to get golden moles, I will explain why we can't show you how in the Facebook app.
How to buy Golden Moles!
Edit - July 1st 2016.
You can buy golden moles in the 'Gold' tab in the STAND ALONE version of the PnF Mall. You do not have to have a stand alone account to do so.
Here's what the 'Gold' page looked like on July 1st 2016: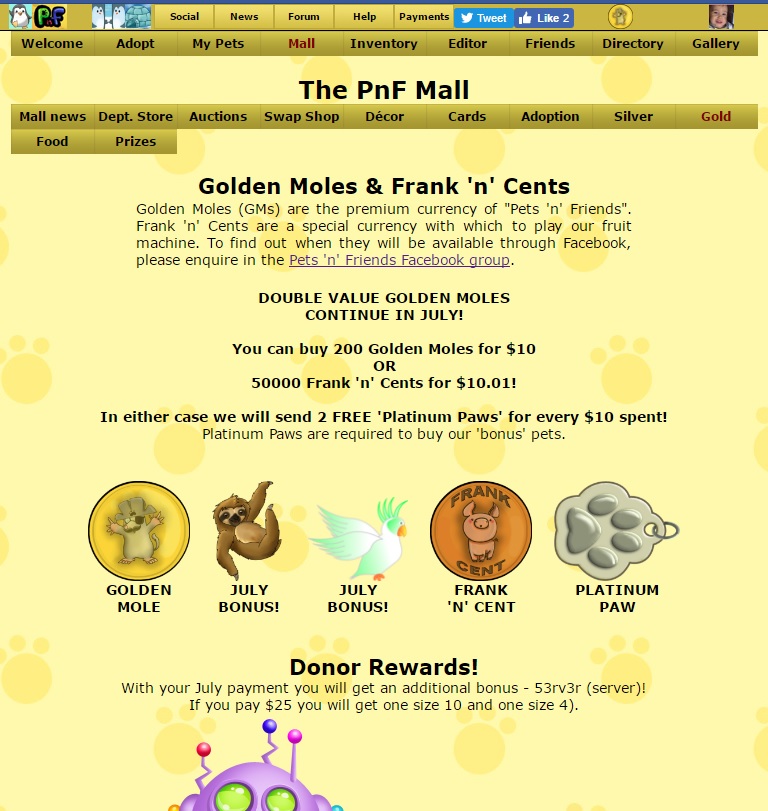 Click this link
to go there:
https://www.pets-n-friends.com/image.edit/mall.php?shop=8
If you want to 'Send money' by Paypal rather than using the button, please send your payments to:
petsnfriends1@gmail.com
Don't miss the '1' out and don't use any punctuation!
If you need advice about using Paypal to donate,
click this link:
('How to get Golden Moles').
https://www.facebook.com/notes/pets-n-friends-group/how-to-get-golden-moles/857357034361402
If you would like to set up a subscription,
click this link
for simple instructions:
https://www.facebook.com/media/set/?set=oa.798153273615112&type=1
That's all you could want to know
Now, why all these complications?
Why we can't tell you this in our Facebook app
The Facebook app must obey certain contractual requirements imposed by Facebook. One of them is, if we take payments for our services in the Facebook app, we have to accept Facebook credits as a valid form of payment. There are several problems with that.
Firstly, that means programming them in. I probably couldn't work out how to do it (in general Facebook features are not well explained or the documentation is commonly out of date) and we have more urgent things for Alias Al to do.
Secondly, Facebook credits give us only 70% of what you pay. So we effectively get charged 30% of anything you want to give us via Facebook credits. Paypal fees are 4% plus 30 cents.
Thirdly, we are contractually required to accept 'free' Facebook credits when users offer them as payment. For these, we would get nothing at all. When you get given 'free' Facebook credits, Facebook is giving away the developer's money, not their own. It's easy to be generous when you can reach into someone else's wallet before you hand out money.
Fourthly, in order to make it harder for apps to get around these issues, all developers are required not to link out of their Facebook app to a 'portal' site or even mention its existence. That way the users are kept in ignorance of any other place they can buy game money at a discount, which was a common way of getting round 1, 2 and 3 before Facebook imposed 4 to prevent it.
Are you at all surprised that developers, faced with the above and with the requirement to alter their software to jump through hoops imposed by Facebook on a regular basis, have often taken their talents to mobile phone apps or just quit Facebook altogether? Our response is to show you how to buy golden moles on our stand alone app, but we cannot show you how on the Facebook app at this time. I hope you will understand.
How you can help others
To help others who are naturally confused, there is nothing to stop you telling them where to get golden moles in comments on their PnF 'My Pets' page, in Facebook IMs, in group posts, or by word of mouth if you actually know them IRL! But we can do no more than we have done. We're really sorry for leaving you in the dark, but until we have time to program in a method of buying golden moles using Facebook credits, we can't even tell you (in our Facebook app) how to get them at all, or where else you can go to get them.
Other ways to pay
If you would really like to be able to pay for golden moles using Facebook credits, or in any other ways, please comment in this thread. Payment processing systems are not simple to install (they have to be completely secure), we rely on Alias Al for such things, and the time he can spare to help us is limited, so until we can pay for programming services, I can't promise anything will be done. But your views will help us to plan for the future.
¬DJK, edited: 1st July 2016.